Welcome To Our Website
Thank you for looking over our website. We can supply and install a wide variety of medical equipment. as well as train user in their functions and implementation. This includes all clinical monitoring, laboratory and surgical equipment as well as plant, such as oxygen systems, medical waste incinerators and portable morgues.
News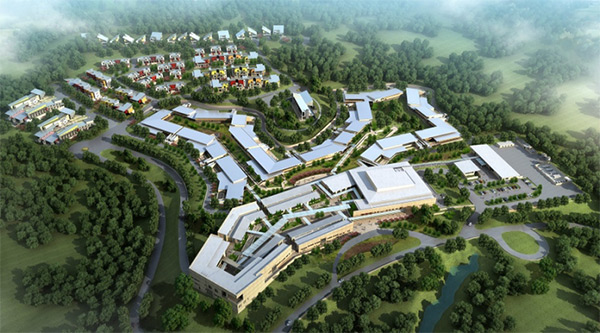 Premier Wins Contract for Installation of Medical Gas Pipelines and Compressors at New Hospital in Papua New Guinea

The new 300 bed 'super hospital' currently under construction in Enga Province, Papua New Guinea is being funded by a US$160 million loan to the Government of PNG by the Bank of China. This will allow funding for both construction and fit out of the hospital, expected to be operational in 2023.
Located within the Enga Provincial Government, Papua New Guinea, this new development will provide essential healthcare services. The development consists of mostly single storey buildings, carparking, landscaping and upgrades to incoming infrastructure.
Premier has joined forces with MegaMedical, an Australian based company that specialises in the supply of medical gases and equipment, that already has considerable experience in PNG including the refurbishment of medical gas system at the Port Moresby General Hospital.

New Oxygen Cylinder Filling, St. Margaret's Hospital
We have just finished installing a new oxygen cylinder filling plant at St. Margaret's Hospital, Funafuti, Tuvalu. The plant will make the hospital independent of importing cylinders of oxygen by sea, where supplies are erratic.

The date of commencement of operation was 16 February, 2017.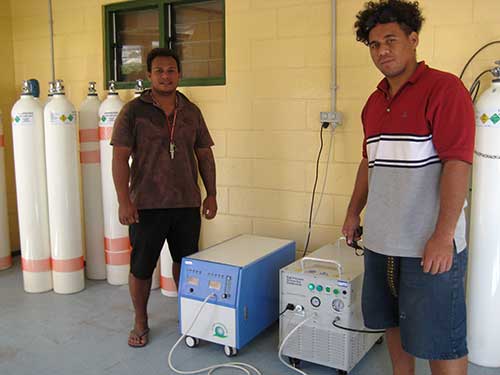 Siare 4000 ventilators at National Referral Hospital
Following on from our training program at National Referral Hospital, Honiara, Solomon Islands this last October 2016 we took part in the official handover of two Siare 4000 intensive care ventilators.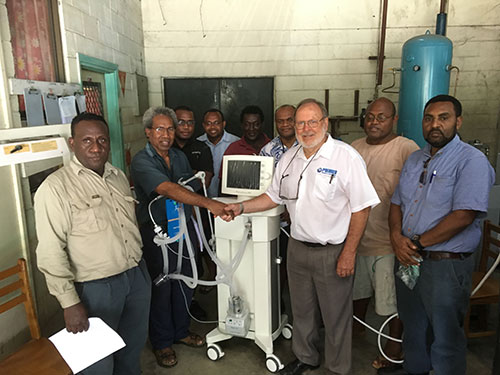 Solomon Islands Tender
Premier Biomedical Engineering Pty Ltd has won a significant tender for the supply and installation of a range of medical equipment for the hospitals of the Solomon Islands. The items range from medical air and suction installation to operating microscopes, oxygen concentrators, intensive care ventilators, patient monitors, dental air compressors, and x-ray computerised developing equipment. Also included is a range of non-technical equipment such as beds and trolleys, all of which are included in the tender.
PBE has commenced delivery and installation, which will take some months to distribute owing to the remote location of some of the outlying islands.
As a condition of the contract, technical and clinical training has to be provided to users following installation. This challenge is currently under way, and we expect to conclude supply, installation and training later in 2016.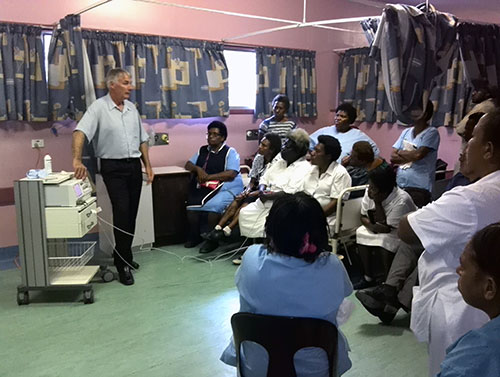 What We Can Do For You:
We provide a Total Equipment Management program.
We can provide procurement advice.
We provide nurse training in equipment operation and care, for both Australian and International personnel.
We provide technician training, both locally and internationally.
We can come to you, anywhere in the world and provide on-site consultancy.
We also cater for niche markets, including small Day Surgeries, and equipment importers that require biomedical backup.
We can carry out pre-delivery testing and certification to Australian Standards
Our engineers and technicians are formally qualified and have undertaken extensive post-college training in biomedical equipment support.
Our rates are cost effective and we guarantee a quick turnaround time for most equipment (providing we can obtain the parts).